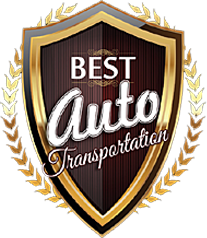 FAQs

What is auto transportation?

There are two types of companies in the auto transportation industry. Brokers coordinate the transportation of a vehicle with the customer and carrier. Carrier is the company who is transporting the vehicle.

Why do I need a broker?

Brokers are important for the client customers, because those customers typically don't have a good knowledge of how to get a good deal on their auto transport needs. They also help to work with the auto transport companies themselves by marketing them and encouraging additional auto transport jobs for those companies.

How can I receive a FREE QUOTE?

When you contact Best Auto Transportation a representative will request the following information from you, vehicle make / model, vehicle year, shipping / delivery date and location, once we receive your requested information we can provide you with a free estimate. Estimates are based on the size of the vehicle and shipping pickup / drop off location. A request can be submitted online by filling out our free estimate shipping quote form.

How can I place an order?

A signed contract, or a deposit is required to secure a carrier. Our driver will contact you to arrange a pickup date of your vehicle. The driver will inspect the vehicle at time of pickup and complete a Bill of Lading, which you will both sign. The vehicle will be re-inspected at time of delivery. The driver will contact you in advance to arrange delivery, due to the size of our trucks, if the driver is unable to deliver to your preferred location arrangements will be made to meet at a convenient location such as a shopping mall or gas station in your area.

What form of payment is acceptable?

We accept all major debit and credit card payments. There are two ways to provide payment, by providing us with a deposit amount to secure a carrier and pay the remaining balance to the carrier either cash or certified on delivery or the full payment can be provided to us or the carrier.

How should I prepare my vehicle before the driver arrives for pickup?

In order to ensure a smooth transition and provide safety for our driver, we suggest your vehicle is inspected for loose parts or leaking fluid. Due to weight restrictions and DOT regulations to help lessen the weight of your vehicle the gas tank should have 1/4 tank. If your vehicle is deemed inoperable be sure to notify us at the time of scheduling your pickup so we can allow our drivers ample time to load their trailer. Please remove specialty or custom items and personal items to prevent theft. For the convenience of the driver be sure to disable the vehicle car alarm.

What items can I store in my vehicle?

Due to Federal Regulations, carriers can not authorize personal belongings in the vehicle nor are these items covered under any insurance carrier. If items are placed in the vehicle they aresoley at your own risk. All drivers are subject to inspection at anytime by DOT and other traffic authorities.

Will I need to be present at time of pickup or delivery?

We understand you may be not available during the delivery process and suggest a friend or relative should be present at the time of pickup and delivery to sign the paperwork needed and inspect the vehicle throughout the process.

Are the carriers fully licensed and insured?

Yes, all drivers are required to meet state and federal requirements with FMCSA (Federal Motor Carrier Safety Administration). The minimum insurance requirement is $750,000 for all carriers to provide coverage for any damage to the vehicle while in transit.

How long will it take to transport my vehicle?

All carriers are permitted to drive 11 consecutive hours on a daily basis, therefore depending on the mileage of your request it can take 2-10 days for delivery from date of pickup.